So it took the election of the first Black President, a beautiful Black first lady and two Black tween girls living in the White House for Disney to make a Black princess movie.

The new Disney film is a classic tale but has a fresh, hip and cooler look. Yes, the story line is the same – girl kisses frog, frog turns into a prince, with some strange going ons in between.
Disney went out on a animated limb by producing an animated film with a Black princess. Will fans of Disney films accept this new princess? Well, why not? Didn't more White Americans vote for Obama than any other ethnic group? The film opens in December 2009.
The story is set in Jazz Age New Orleans, with this princess-in-the-rough working as a waitress. She is only royal in her mind, and dreams of opening a restaurant in the French Quarter. Aside from breaking a race barrier, the animated film is a throw-back to another era: The movie is hand-drawn, with zydeco-style songs by Randy Newman and stars actress Anika Noni Rose as the princess, Tiana, and queen of daytime, Oprah Winfrey, as the voice of her mom. (Source: Yahoo Buzz Line)
The Museum of UnCut Funk is elated that Disney has finally come all the way out of it's racial and stereotypical bag to produce a film with a Black lead in true Disney form.
Meet Anika Noni Rose: Disney's First Animated Black Princess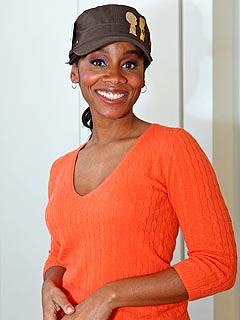 Jumping from the stage to the world of animation, Tony Award-winning actress Anika Noni Rose takes on her most enchanting and monumental role yet: Princess Tiana, Disney's first animated black princess.
"This feels amazing," Rose, 36, told PEOPLE this week at the Manhattan unveiling of the toy line for The Princess and the Frog. "Not only is she the first black princess, she's the first American princess. So, the scope and the significance is larger than people even realize."
Regal Role
In the meantime, Rose is enjoying her newfound role as "Princess of America. "I'm not like, skipping down the street with it, but when you take a moment and you think about the fact that this is what America has chosen to put out as Princess-hood, Princess-dom, it's amazing," she said.
The Princess and the Frog is set in Jazz Age New Orleans, with this princess-in-the-rough working as a waitress. She is only royal in her mind, and dreams of opening a restaurant in the French Quarter. Aside from breaking a race barrier, the animated film is a throw-back to another era: The movie is hand-drawn, with zydeco-style songs by Randy Newman and stars actress Anika Noni Rose as the princess, Tiana, and queen of daytime, Oprah Winfrey, as the voice of her mom. (Source: Yahoo Buzz Line)
Rounding out Disney's multicultural royalty (see below) are Mulan, from China; Pocahontas, who is Native American; and, from the Middle East, Jasmine. (Source: People)